Vedhik eSchools partners with iLearningEngines to Launch AI-powered Platform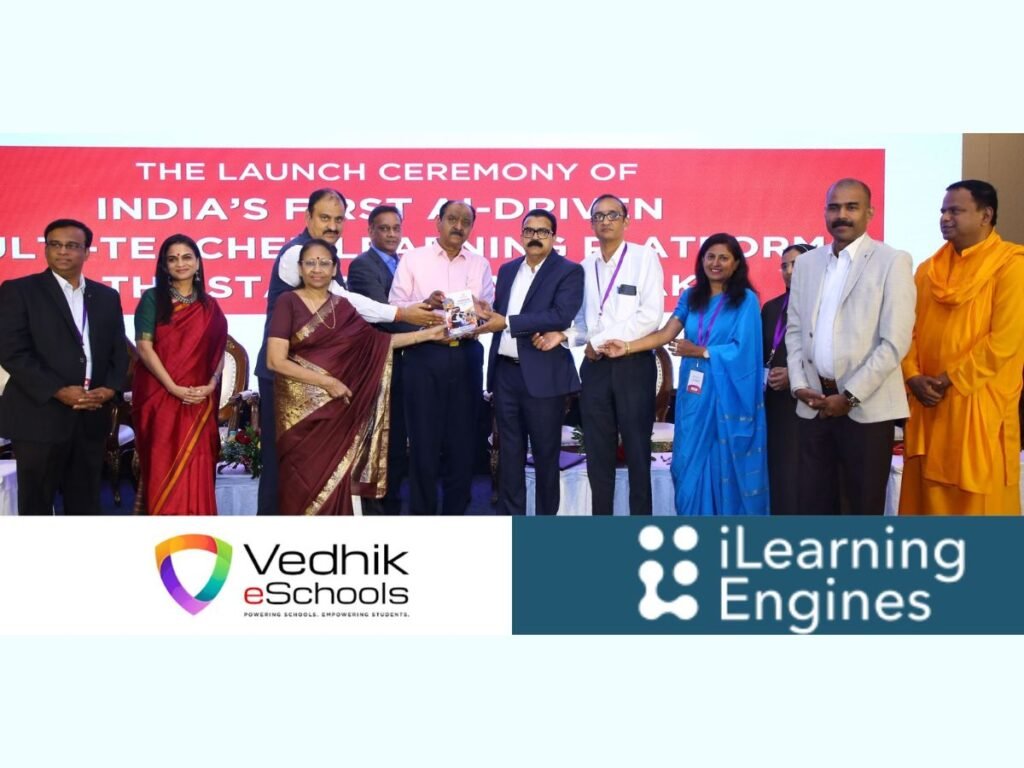 Dr. Shankar Bidari, IPS, Dr. Babu Sebastian,  Shri. James Mattan, Shri. Balakrishnan A.P launched the initiative
​Vedhik eSchools is the country's first AI-driven multi-teacher learning platform enabling schools to attain higher grades in the school accreditation process
Bengaluru (Karnataka) [India], February 13: Vedhik IAS Academy, in partnership with iLearningEngines (iLE), formally launched Vedhik eSchools, their AI-powered learning experience platform in Bengaluru. Dr. Shankar Bidari, IPS, Former DGP, Govt. of Karnataka, inaugurated the platform during a function at the Leela Hotel in the city that was attended by the heads of over 100 schools as well as the dignitaries from the Government and education sector.
"If we are to equip the next generation to succeed in this rapidly changing world, we need to adopt the latest technology in delivering education. With this AI learning platform, schools can provide personalized education experiences, helps students learn at their own pace, and gives teachers valuable insights into their students' performance. This is very much in line with the national education agenda, and I am honoured to support this great initiative", said Dr. Shankar Bidari.
Vedhik and ILE joined forces one year ago with the goal of making learning more dynamic and accessible to all students in the region. Today, Vedhik eSchools empowers learning institutions to provide world-class education to their students, extending even beyond academics by leveraging the most advanced AI technologies and educational tools. In launching Vedhik eSchools, the organizers' goals include improving student performance and engagement, enhancing teacher productivity, and increasing parent-teacher communication, resulting in a more robust learning ecosystem.
A unique feature of Vedhik eSchools is the multiple-teacher experience, which provides an opportunity to learn the same lessons from multiple teachers. Students have the flexibility to choose their teachers based on their own requirements and preferences.
Vedhik eSchools helps schools to overcome the limitations and restrictions of conventional educational models. Dual schooling, homeschooling, personalized learning and hybrid learning are all integrated here. With 24/7 virtual support, students also enjoy a teacher-guided experience even after school hours and eliminate the need for after-school tutoring. For individual schools that are not equipped with full-fledged facilities, Vedhik eSchools is the perfect platform to help them offer a holistic learning experience without incurring high infrastructural costs. For parents and students, too, Vedhik eSchools makes this 360-degree program accessible at affordable fees with increased convenience on a centralized platform.
"With Vedhik IAS Academy, we were instrumental in shaping the leaders of the country and with Vedhik eSchools, our vision is to transform the whole country by inculcating the youth with the skills, knowledge, and confidence they need to contribute to society and make a positive impact in the world. By providing access to quality education, we can break down barriers, reduce inequality, and unleash the full potential of our youth", said Dr. Babu Sebastian, Founder and Chancellor of Vedhik Group of Companies, former Vice Chancellor of IMG & Kannur University, Kerala.
"After a successful launch in Kerala, we are excited to bring Vedhik eSchools to Karnataka, with an all-India launch in our sights soon," said James Mattom, Vedhik eSchools CEO. "With this initiative, we are helping schools with valuable insights and are excited to take this concept globally with our commitment to empowering students."
"iLearningEngines is completely committed to helping organizations meet their learning automation needs," said Balakrishnan A. P., President of iLearningEngines. "Our relationship with the Vedhik Foundation started with their entire IAS academy being deployed through iLearningEngines. We are very excited to extend this to Vedhik eSchools, a robust and easy-to-use learning experience platform with the amazing mission of accelerating learners' education, skill development and future-readiness. We look forward to helping Vedhik make this program widely available and successful throughout India and the Middle East."
The Vedhik eSchools platform features multiple modules with access to broad sets of content that have been designed in conjunction with national school accreditation standards and overseen by veteran education professionals. For more information on Vedhik eSchools, go to https://vedhikeschools.com/.
The Bangalore launch event was attended by Dr. Shankar Bidari, IPS, Former DGP, Govt. of Karnataka,Dr. Babu Sebastian, Founder and Chancellor, Vedhik Group of Companies, former Vice Chancellor, IMG & Kannur University, Kerela, Shri. James Mattan, Founder and CEO, Vedhik Group of Companies, Shri. B.C. Nagesh, Hon Minister of Education, Govt. of Karnataka, Shri. Balakrishnan A.P., President iLearningEngines.
iLearningEngines is the market leader in cloud-based, mission-critical training for enterprises. Deloitte ranked ILE as the top 20 fastest-growing company in North America in 2020 on the Deloitte Technology Fast 500 and #5 in the 2019 Deloitte Fast 500. The Company's AI and Learning Automation platform is used by enterprises to productize their enterprise knowledge for consumption throughout the enterprise. iLearningEngines is being deployed in some of the most regulated and detail-oriented vertical markets, including healthcare, education, energy, transportation and the military. The intense demand for scalable, outcome-based training has led to marquee customer wins across several industry verticals.
Vedhik IAS Academy is India's largest and most innovative online IAS Academy and provides affordable, world-class IAS Coaching that transforms lives. With residential campuses across India, providing an opportunity to learn from India's topmost IAS officers, Vedhik offers wide-ranging online classes with AI-supported study programs, videos and personalized evaluation platforms. Vedhik IAS Academy offers a completely digital platform and is the first paperless UN and Indian Civil service coaching Institute in India with the mission of providing online civil service coaching for students across the globe. As the only IAS academy in India to receive the Excellent Global E Learning Award-2020 from the UN, Vedhik trains students for more than 568 competitive exams to prepare them for national and state-level government jobs.
If you have any objection to this press release content, kindly contact pr.error.rectification[at]gmail.com to notify us. We will respond and rectify the situation in the next 24 hours.