Surat Biz Fest concludes in the city of diamonds with an overwhelming response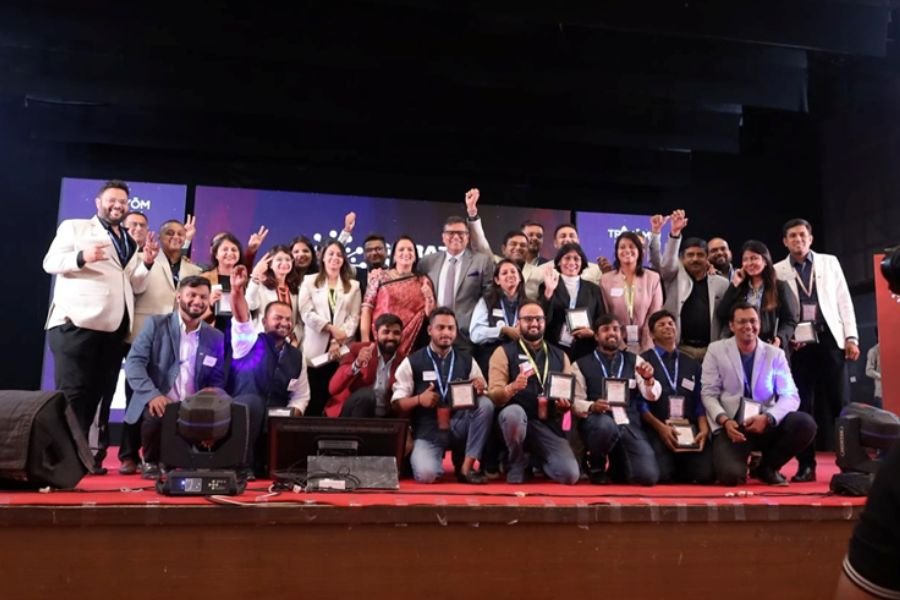 Surat (Gujarat) [India], March 29: Three-day long 'Surat Biz Fest', presented by Triyom Realty, powered by CRMONE and We Founder Circle, and hosted by BNI Greater Surat and Corporate Connections, concluded with an overwhelming response from the business community from Surat and across the country on March 26.
It was for the first time that the diamond city of Surat witnessed a business festival catering to startups, SMEs and MSMEs, and large corporates, thanks to BNI Greater Surat.
The Surat Biz Fest, kicked off on March 24 at Amore in India's diamond capital of Surat and has since received much attention from the Indian business community. The summit provided a fantastic opportunity for all attendees to learn and connect with investors and change-makers and to celebrate the startup ecosystem. The biz fest allowed entrepreneurs and startup founders to interact with prominent businesspeople, investors, and unicorns at the one day event as "Bharat Start-up Summit" in Surat.
On March 24, the Surat Biz Fest hosted a workshop by Apurva Chamaria, who is the head of startups and VC at Google India, on the 'Rise of Bharat in Startup Ecosystem'. The panel also included Apurva Arora, an angel investor and managing partner of EPIC Ventures, Kashyap Pandya, founder of Syncoro Ventures, Nimith Agarwal, co-founder of DOCTCO, Ravi Nigam, former president of the Indus Entrepreneurs (TIE, Pune), and Vivek Kapoor, co-founder of DINEOUT, who spoke about 'Investing in Early-stage startups: The Risks and Rewards of Backing New Age businesses'.
On March 25, the panel speakers included Ashwin Desai of Aether Industries Limited (Chemicals), Ketan Zota of Zota Pharma Ltd (Chemicals), Milan Pareek of Jainam Securities Ltd (Equity investments), and Abbas Hajoori of Sosyo Beverages Ltd (food and beverages). The session was moderated by Gaurav V K Singhvi (WE Founder Circel Startup Investors).
Prof. Ramesh Arora, keynote speaker and chairman of the management development academy, Jaipur, engaged the audience in an open discussion on 'Khushnuma Safalta—The Smiling Success' by delving deep into the difference between love and infatuation in a leader towards their business. Business leaders should always criticize the 'Mistakes' and not 'The Person' as told by Prof. Ramesh Arora. Bindu Khurana, numero vaastu consultant, PhD Gold medalist, author, Nostradamus awardee in Asia and Bharat Bhushan 2019, conducted an exciting master class on 'How to Close a deal in 30 seconds by only following three body language tips'.
Another master class on '7 Steps an SME should take to build a robust go-to-market plan' was conducted by Gagan Kapoor, senior director consultant and serial entrepreneur from Gurgaon. Kapoor conducted an amazing session on marketing and most important and key takeaway of his entire session was "We don't need to tell everything about our product/services to everyone" and "not to tell everything in 1 go"
Angelo Rajesh Athaide, serial and social entrepreneur, angel investor, motivational speaker, and educationist was the keynote speaker on the subject 'The entrepreneur compass. RJ Kartik, motivational speaker and renowned radio artist and story tell also spoke on the topic 'Namaste Zindagi'.
CA Gaurav VK Singhvi, a co-founder of We Founder Circle and "Executive Director of BNI Greater Surat", said, "A business festival aimed at startups, small and medium-sized businesses, and medium and large corporations was held in Surat for the first time. Typically, these gatherings are held independently, one for each distinct type of business."
"The concept behind Surat BizFest was built on the premise that all sectors of an economy should be able to support and learn from one another. At Surat BizFest, we united entrepreneurs, small and medium-sized businesses, and large corporations. For three days, we celebrated the success of our efforts to establish Surat as a city and a brand where business ecosystems can flourish. Keynote speakers have included notable people from many fields. At the 3-day city event, we showcased businesses from all stages of development, from startups to SMEs and MSMEs to large corporations".
Mr. Atul Gupta – Event Chairman said, "I am happy and elated to share about the magnanimous 3 days Business Event – Surat BizFest which happened on 24-25- 26 March in the City of Surat . This was the 6th edition and Day 1 was dedicated to Startup's and on day 2 and 3, 130 + premium exhibitors displayed their products and services at Platinum Hall, Sarsana . Entrepreneurs of Surat witnessed one of its kind of Business Exhibitions which included keynote sessions from learned speakers across India, panel discussions from industry leaders of Surat, speed networking and entertainment night.
Over 10,000 business owners, 500 business entities, (45+) speakers participated, 130 plus premium exhibitors, over 200 startup founders, and participants from approximately 40+ BNI India regions converged at the venues during the three-day extensive Surat Biz Fest for networking.
If you have any objection to this press release content, kindly contact pr.error.rectification@gmail.com to notify us. We will respond and rectify the situation in the next 24 hours.