MySMSMantra – India's Leading Bulk SMS Service Provider To Improve Brand Efficiency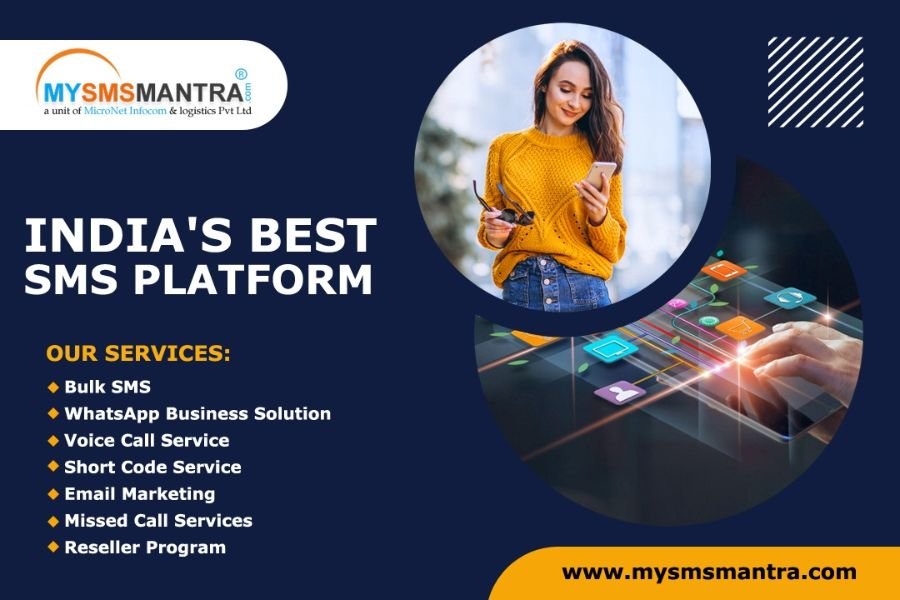 New Delhi (India), April 26: MySMSMantra, the leading bulk SMS service provider in India, focuses on the highest quality bulk SMS service, high-priority SMS routes, cost-effective bulk SMS service, and successful bulk SMS campaigns to improve the brand efficiency of businesses worldwide.
Bulk SMS service means sending SMS messages to multiple users simultaneously. Bulk SMS is referred to as broadcast messaging or one-to-many messages. Bulk SMS should be distinct from Group SMS. Group SMS, instead, is many-to-many messaging. Bulk SMS services can help brands achieve immediate impact, impressive conversion rate, and cost-effectively run customizable campaigns.
MySMSMantra, India's leading bulk SMS service provider, is committed to high-level functionality and full service. The company features a wide range of services like bulk SMS service, RCS messaging services, Whatsapp business API, Whatsapp official business account, Whatsapp web automation bot, bulk SMS on Whatsapp, short cod service, voice call service, missed call services, email marketing, developer API, and ILDO bulk SMS service. MySMSMantra services are available to clients all across the country.
With a mission to deliver the highest quality bulk SMS service, MySMSMantra excels as India's best custom bulk SMS service. The company is committed to continually improving and educating its employees and leveraging the latest technology and trends. Designing services with a user-centric approach is highly prioritized to boost leads and conversions.
MySMSMantra has garnered acclaim at every level in India. They help businesses easily communicate with prospective clients and succeed with SMS marketing. They provide cost-effective, reliable, trusted, experienced, easy-to-use, and friendly services to launch successful SMS marketing campaigns.
MySMSMantra also provides a wide range of high-quality services to handle high volumes of data. Over the years, they have put in 1,00,000+ hours of hard work, 4O+ team members, made 100+ innovations, offered hundred percent reliable performance, maintained hundred percent quality, and achieved hundred percent client retention and customer satisfaction.
Bulk SMS services are growing in popularity as it helps boost brand engagement rates. According to statistics, 60 percent of the receivers read the text within 5 to 6 minutes of receiving them. Ninety-eight percent of people would instead open SMS messages compared to email marketing. Moreover, bulk SMS service helps in running successful and personalized campaigns.
"MySMSMantra sincerely hopes to boost your business by building brand efficiency. The company aims to unlock the power of text messaging for your business and connect people. Each bulk SMS service the company delivers is fully customized to meet client requirements. We provide authentic messaging services to send real-time delivery status and reports at extremely competitive prices, which sets us apart from our competition," says the Founder of MySMSMantra.
MySMSMantra is a unit of MicroNet Infocom and Logistics Private Limited. Founded over a decade ago, MySMSMantra specializes in sending bulk promotional messages, reminders, and offers along with reliable and cost-effective services. With every bulk SMS service, MySMSMantra strives to exceed customer expectations with fast and secure technology, competitively priced services, and industry best practices across diverse domains. Follow them at  https://www.facebook.com/micronetgroup