HCAH Becomes the First Out-of-Hospital Rehabilitation Provider to Offer Cashless Insurance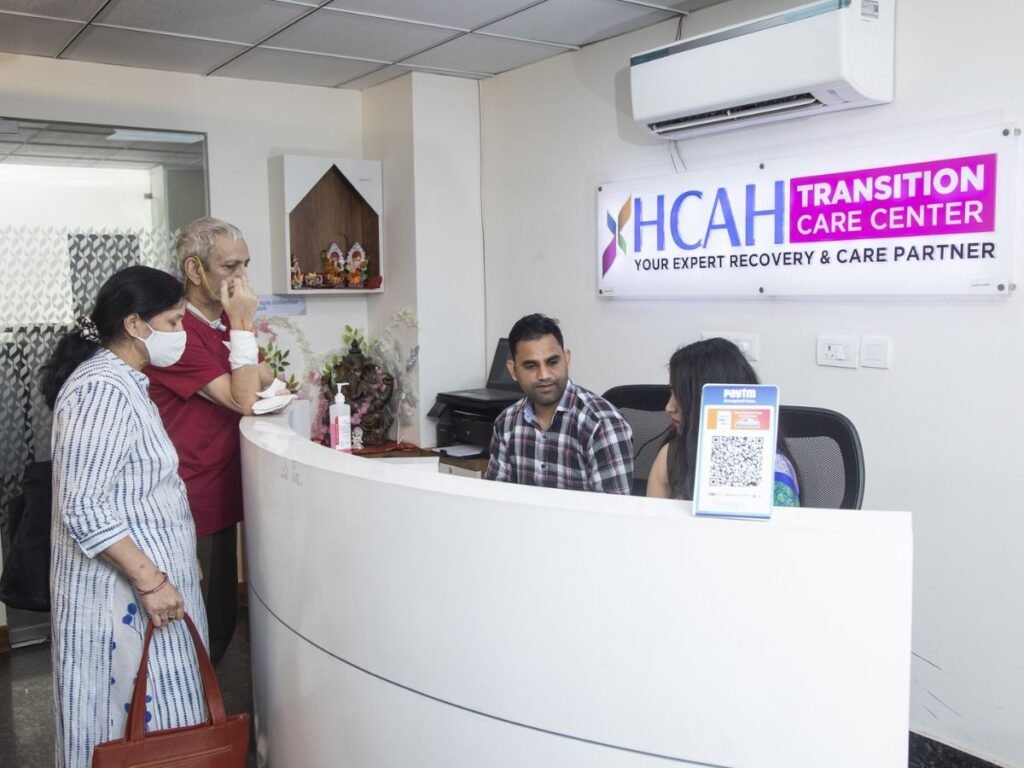 With this insurance, HCAH provides patients with unparalleled convenience and a stress-free recovery experience HCAH becomes the first rehab provider in India to offer cashless insurance coverage outside of hospitals HCAH collaborates with fourteen major insurance players to make insurance available for its patients
Gurugram (India), May 27: HCAH, India's leading out-of-hospital care provider, announces its collaboration with fourteen major insurance players, becoming the first transition care provider in India to make insurance available for its patients. This is a significant milestone for HCAH as it becomes the first rehab provider to offer cashless insurance coverage for out-of-hospital care. This collaboration enables patients to receive high-quality rehabilitation services without worrying about financial burdens, while also enhancing HCAH's position as a leader in the healthcare industry.
HCAH's TCCs focus on helping patients recover in a home-like environment outside of the hospital setting. HCAH aims to drive 100% recovery of a patient through high-end equipment, a multidisciplinary team, a milestone-based approach and protocolized delivery. HCAH supports patients across multiple areas, such as stroke recovery, head injury, spine injury, critical care, pulmonary rehab, cardiac rehab, dementia, Parkinson, Onco rehab and medical management.
Placing emphasis on significant cost savings for its patients, HCAH is revolutionizing healthcare in India with its unwavering commitment to cost-effective care. By partnering with top insurance companies including Medi Assist Insurance, Manipal Cigna Health Insurance Company Ltd, SBI General Insurance Co. Ltd., Navi General Insurance Ltd to name a few from the list, HCAH is offering patients the dual benefits of financial security and quality care from trained professionals.
HCAH's TCCs' affordable prices, which are only 50% of hospital costs and one-third of critical care costs, make it a practical and feasible option for healthcare consumers in India. HCAH's tailored insurance policies are available at HCAH Suvitas in Domlur, Bangalore, and HCAH Suvitas in Banjara Hills, Hyderabad. These policies are designed for patients transitioning from hospital to home. They not only save costs but also provide the necessary support for patients to return to their professional lives quickly.
Vivek Srivastava, CEO and Co-Founder, HCAH said that, "We are thrilled and equally excited to become the first company in the out-of-hospital care landscape, to introduce insurance partnerships with the key players in the insurance arena, enabling us to provide a comprehensive and holistic approach to transition care for our patients. Globally, this is a common step but in India this is a first in the realm of TCCs and rehab-care. These partnerships with top insurance providers in India will give our patients the peace of mind and financial protection they need during this critical time in their recovery process. HCAH has implemented this to ensure that its transition care centres remain affordable and accessible to all patients."
Dr. Gaurav Thukral, COO, HCAH also said, "Hospitals are there to save lives! We at HCAH, make people recover back to their normal life. The alliance with key insurance players in the market can help people utilize the same sum insured to recover in the comfort of HCAH's TCCs and would lead to early discharge from the hospital, having fastest recovery to normalcy. We are committed to providing the best possible care to our patients, and we take pride in working with some of the top insurance providers in India. We are excited about the possibilities they present for the future of transition care in India. This move also strengthens HCAH's position as a credible provider."
The insurance benefits are available to all patients from the company's transition care program. The financial protection provided by these top insurers and HCAH's expertise in rehab care, enhances the quality, accessibility, and affordability of transition care in India. This is a significant step forward in the evolution of transition care in India.
About HCAH:
HCAH is a Delhi NCR-based health-tech company present in 70+ cities across the country. It has raised investments from the Burman Family (Promoters of Dabur), Founders of Healthcare at Home UK, Quadria Capital, a Singapore-based healthcare fund and ABC Impact. HCAH provides the best possible healthcare outcomes and quality of life outside of hospitals by building the most affordable and accessible healthcare ecosystem. HCAH has 3 segments in which it delivers its services: (i) Physical rehabilitation and recovery through its service range of Inpatient Rehab, Long Term Acute Care in transition care centres, digital and home rehab; Home ICU and palliative care services; and supply of rehab equipment (ii) Elderly care services including e-commerce and caregiver services (iii) Chronic Disease Management services including screening, diagnostics, infusions, dialysis, oncology treatments, patient support programs, pharmacy, PAPs and adherence programs in association with leading pharma companies. All these services are delivered through HCAH's proprietary technology platform in homes, centres and digitally.
HCAH is the first company to be accredited under the QAI (India's homecare standards). HCAH has published/presented 40 papers in national and international journals on its outcomes. HCAH is the only out-of-hospital care provider to be certified Great Places to Work. Over the course of its existence, HCAH has maintained a NPS of 65%+.
With the recent acquisition of Nightingales, HCAH becomes India's largest out-of-hospital care platform. Moreover, with the acquisition of Seniority back in 2022, HCAH has emerged as India's largest senior care platform. The company is developing an end-to-end senior care vertical for the holistic well-being of the growing elderly population.
For more information, visit www.hcah.in and www.seniority.in
If you have any objection to this press release content, kindly contact pr.error.rectification@gmail.com to notify us. We will respond and rectify the situation in the next 24 hours.