Minosha India Ltd. unveils a smart range of Laser Printers for hybrid workplaces in India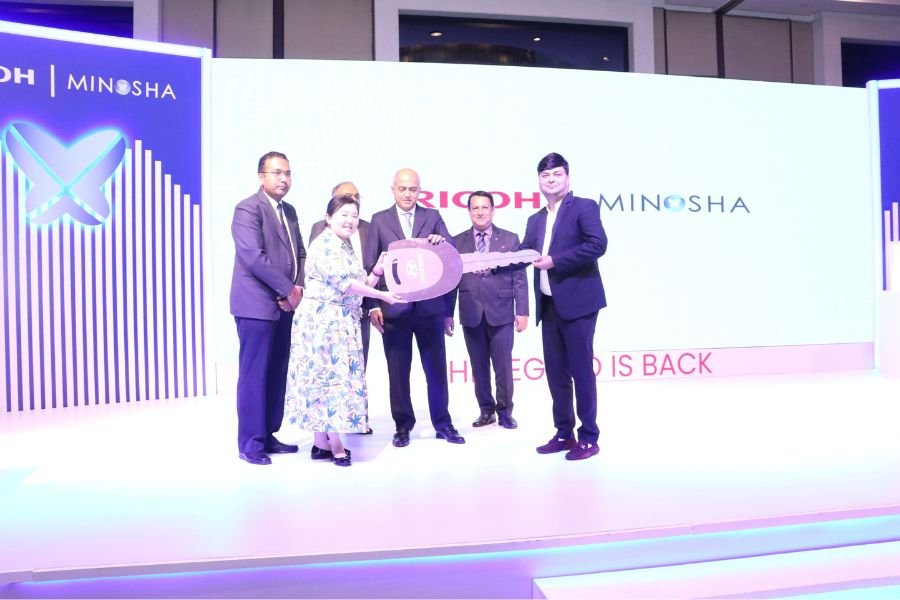 Mr. Suraj Seth Vikash Techsec Ranchi gets the key to Hyundai Exter from Mr. Atul Thakker MD Minosha India Ltd
The product lineup comprises of segments – Mono and Colour – each focusing on enhancing productivity and printing capabilities in offices
Bengaluru (Karnataka) [India], October 5: In a significant move that promises to reshape the office printing sector in India, Minosha India Limited, a renowned partner of Ricoh products, has introduced an exceptional lineup of next-generation laser printers. The announcement, made on September 29th, 2023, in Bangalore, is marked by two main segments: Mono and Colour. Both are designed to boost office productivity and offer superior quality.
Product Highlights: Minosha's latest range is characterized by its groundbreaking technology. The Mono segment includes:
RICOH P 311: A single-function printer with a 4-line LCD operation panel. It boasts print speeds up to 32 ppm and impressive security features.
RICOH M 320F: A multi-function printer with a 4.3" color touch panel and features like Automatic Reversing Document Feeder for efficient document sharing.
The Colour segment, meanwhile, offers:
RICOH P C311W: A vibrant single-function printer that operates at speeds up to 25 ppm.
RICOH M C251FW: A 4-in-1 multi-function printer with features like a Single Pass Document Feeder and a large color touchscreen panel.
All these printers come Wi-Fi enabled and are accompanied by a smart device connector, remote device manager, and a robust national service network. Prices for this range start from Rs 30,000/-.
Towards Smarter Workplaces: In addition to the printers, Minosha showcased Ricoh's RICOH SPACES—a digital solution aimed at transforming offices. This cloud-hosted platform offers a plethora of features like Visual floor plans, Room and space Booking, and Workplace Automation, ensuring workplaces are safer and more efficient.
Mr. Atul Thakker, Managing Director – Minosha India Ltd., voiced his pride in the company's long-standing legacy based on quality, trust, and reach. Speaking of their partnership with Ricoh, he mentioned, "It is a symbiotic alliance that synergizes our strengths. Together with Ricoh, we are introducing products that will exceed the expectations of the Indian market."
Steven Burger from Ricoh Asia Pacific emphasized the importance of staying ahead in India's dynamic market. He remarked, "These aren't just printers; they are catalysts of productivity, efficiency, and environmental responsibility."
A Token of Appreciation: In a unique gesture, Minosha India celebrated the product launch by rewarding its dealer partners. The highest bookings from dealerships at the launch event were rewarded with brand-new Hyundai Exter cars. This gesture not only highlighted the company's appreciation for its partners but also showcased the enthusiasm surrounding the new printer range.
A Legacy of Excellence: Founded in 1996, Minosha India has been a dominant player in the Indian market for over 27 years. They have consistently introduced contemporary digital imaging products and, in 2022, entered a strategic alliance with Ricoh. This partnership promises to combine Ricoh's advanced office equipment with Minosha's commitment, ensuring they stay at the pinnacle of technological advancement.
This launch marks a significant step for both Minosha and Ricoh. As they jointly venture into the future, Indian businesses can look forward to enhanced office solutions that encapsulate efficiency, quality, and innovation. The future of office printing in India looks brighter than ever.
If you have any objection to this press release content, kindly contact pr.error.rectification[at]gmail.com to notify us. We will respond and rectify the situation in the next 24 hours.